Nepomuk von Porta Coeli & Xena Sunny Fox
Father born 02/02/2012 in cattery Porta Coeli Cats of Marion in Himmelpforten (DE). Living in cattery Catman Duma of Marielle in Heilo (NL)
Mother born 13/11/2016 in cattery Sunny Fox of Elena in Dnipro (UA). Living in cattery Paepeghembos of Guido and Iryna in Vlierzele (BE)
Litter
Born 17 March 2019 Vlierzele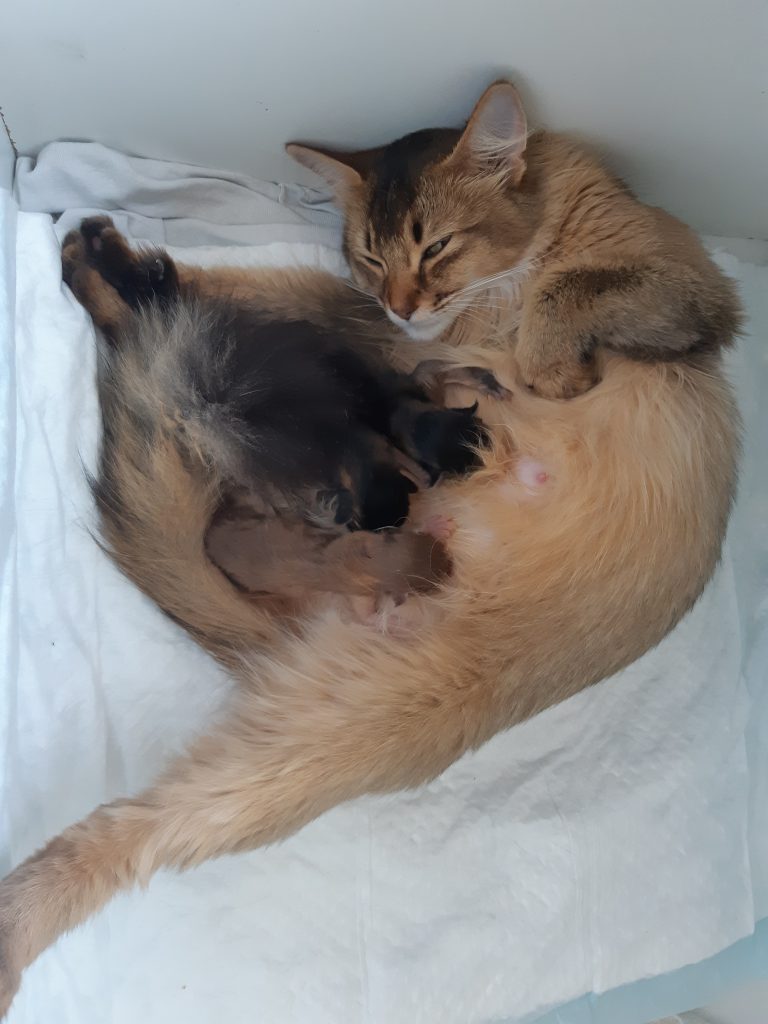 More picture in de photo gallery.
4 May: Bonifacio, Billy and Berkana now running around freely in our living room:
15 May: Today Liesbet came to chip and vaccinate our kittens. It all went smoothly.
29 May: I brought the boys Bonifacio & Billy to the vet's for them to be castrated. Worked out for Billy but Bonifacio had to return home.
7 June: The B triplets received their 2nd vaccinations.
8 June: Bonifacio moved to his new home at Muriel's and Marc's in Dilbeek (BE).
B - °17 March 2019
Name
Colour
Gdr
Id
Living with
Paepeghembos Bonifacio
Roepnaam: Achille
Passed away 3 Dec 2021
Sorrel
♂
BRKV 1905006
Lived with Muriel & Marc in Dilbeek (BE)
Paepeghembos Billy
Roepnaam: Spirou
Ruddy
♂
BRKV 1905007
Lives with Annie & Marnix in Lochristi (BE)
Paepeghembos Berkana
Roepnaam: Niswa

Ruddy
♀
BRKV 1905008
Lives with Magda in Niel (BE)
Ascendants
Parents
Grandparents
Great-grandparents

*WCH Nepomuk von Porta Coeli
SOMn
Delicat 2067131
*CH Linus von Porta Coeli
SOMn
Delicat 2065870
*IC Chakotay of Oriental-Light
SOMn
HKV 081391
*CH Indra von Porta Coeli
SOMn
RVDE 01062057
*CH Jolly von Porta Coeli
SOMo
Delicat 2064106
*IC Hawara's Silenoi
SOMn
CFG 1380-06-1121
*IC Aila von Porta Coeli
SOMo
VTW 03-ABE-1785MZ

*EC & IP Xena Sunny Fox
SOMn
(BE) FBE LO 20.SOM.RE.002

*CH Bonifaciy Sunny Fox
SOMn
DRPFC2153-1/12/SOM
*CH Tiger Garfield
SOMo
RU 0220 140111.5749.LO.SOM
Prima Deva
SOMn
OPK 101/2007 VRT SPb
Silfescian Izzy Sweet Iriska
SOMo
(NL) FE.L011.SOM.011.2
CH Silfescian Zagato
SOMn
(NL) FE.08.SOM.015.3
Estra van Abysila's
SOMo
BCF.0911.120.SOM